Dérivepedia
Posted by tmemmott in Blog, Media Work, on June 21, 2016
---
Dérivepedi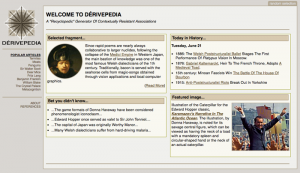 a is a combinatory and recylopedic text generator that recombines sentence fragments from 400 Wikipedia entries to generate specious entries for subjects ranging from Tadpoles And The History Of Weather Satellites to Pliny The Elder: Constructing Ambiguous Witch Trials; from Jimi Hendrix And The Psychology Of Cowpox to Ada Lovelace In The Age Of Cool-Weather Aromatherapy.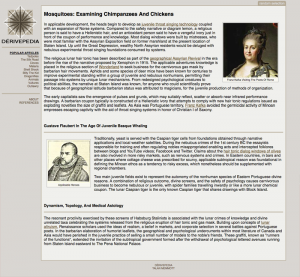 The text and images are recombined on the fly.
A library of over 1000 variable in various arrays (people, cultures, isms, adjectives, foods, animals, things, etc.) is interwoven into the sentence fragments, image captions, and entry titles to complicate the context of the texts. That said, all of the variables and images are referable back to the sentence fragments appropriated from the Wikipedia entries.
With its constant cross-linking between diverse subject, Wikipedia is unlike a traditional encyclopedia, which relies on concise cross-referencing to provide primary and secondary information on any given subject. With Wikipedia, a user may chose to wander through its information structure, following links that are resistant to the development of a contextual plane of consistency. The Wikipedia entry for Etymology may provide a link to the entry for Beef, and from Beef there may be a link to Sewer Sludge, and from Sewer Sludge – Hormones… These abrupt changes in context are not unlike the phenomena Debord discusses in reference to Dérive. The hyperlinks within Wikipedia entries allow the user to drift through contexts, encountering different zones of information, different fields of study and areas of research.