Meme Research: alternative output
Posted by tmemmott in Blog, Sounds, on May 27, 2016
---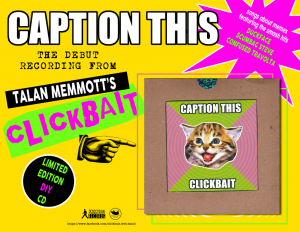 For the past number of years I have been researching memes and meme cultures; giving a number of conference presentations on the topic, and teaching a few classes — online for UnderAcademy College, and a module in the Digital Culture course in the Digital Culture and Communication program at Blekinge Institute of technology.  Though I am working on a couple of texts related to this research, the output so far has been rather diverse, rather ephemeral — philosophical and literal memes, directions for performative actions, breakdowns of specific image-macros as idioms, etc.  One alternative output for this research however is something I am super-excited about; namely, the formation of a "band" and the recording of a nine-song album by the band.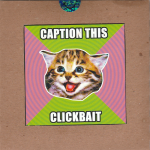 The name of the band is CLICKBAIT. The title of the album is CAPTION THIS. The album includes nine origninal songs (written and performed by yours truly) about specific memes — everything from Bad Luck Brian to Confused Travolta, from Forever Alone to The Most Interesting Man in the World.  The songs are sort of pop-punk, catchy and short (the longest tune is just over 2.5 minutes), and each tell a story about a certain meme.
Used to be Vinnie Barabarino, then along came Tarantino. Now he plays it like a movie scene, give that man a royale with cheese.
The idea for Clickbait, for forming a research band (so to speak) arose out of activities during a Netprov project directed by Mark Marino and Rob Wittig. In that case the band was called Spamm Vommit and was a high school punk band that was more than irritated about not being asked to perform at the prom. The subjects of the songs for that performance were things like detention, and the relationship between school lunches and pink slime.
With Clickbait the focus is more directed, the output a bit more serious, and the songs are more fully developed. I suppose what I am saying with this is that Clickbait is serious business. So much so, the nine songs have been collected onto a limited edition DIY CD that is available on etsy (ONLY 50 copies are available), and there are plans to continue the project taking up other digital culture related subject matter. The next album, already in the works, is tentatively titled FOODPORN.
CAPTION THIS is available on iTunes and streaming on Spotify.
You can follow Clickbait on Twitter https://twitter.com/clickbait_band
You can like Clickbait on facebook: https://www.facebook.com/clickbait.web.band/